OUR MAIN MARKETING AREA
As Realtors, we specialize in Rappahannock County, western Fauquier County and northern Culpeper & Madison Counties, all within an easy drive of Washington DC, Charlottesville, Winchester and Richmond VA.

Rappahannock is serenely beautiful, on the east or "morning side" of the Blue Ridge Mountains. 25% of the county is in the National Park and another 25% conserved by Scenic or Conservation Easements. The headwaters of seven mountain rivers flow from the National Park into this small county of history, foothills, hollows and rolling farm land. A county of only 7,000 people with world-class artists and musicians, three theaters, award-winning wineries, delightful country stores, organic farms and CSAs, magnificent foothills and night skies filled with stars... yes, at times you can still see the Milky Way over the silhouettes of the mountains. We are pleased to say there are NO box stores, strip malls, traffic lights or billboards… all about an hour west of the DC beltway! A community of unique homes and interesting people who appreciate what they have … and do their best to preserve it.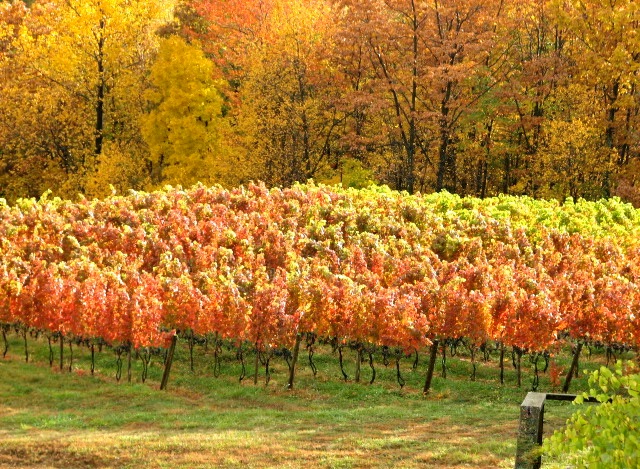 Linden Vineyards in the Fall
Fauquier adjoins to the east and offers many fine farming estates and homes within an easy drive of DC, particularly in the north-west quadrant of Middleburg, Upperville, Delaplane and the county seat of Warrenton. Hume Va adjoins Rappahannock Rappahannock County. Conservation Easements are abundant, particularly in the Middleburg and Upperville regions. Fox hunting, tennis, wineries, and a genteel way of life still exist in this area of gently rolling land between the Bull Run and Blue Ridge Mountains.
Madison, particularly the north quadrant is just south of Rappahannock and also adjoins the National Park and Blue Ridge Mountains. Etlan and Syria areas are particularly beautiful. Back roads and wineries are fun and living is easy. A beautiful area of farms, country living and second homes for people from DC to Charlottesville to Richmond VA. Bluegrass country. From Madison County it is a 35-45 minute drive to the many assets of Charlottesville, VA.
Culpeper is south-east of Rappahannock and offers Civil War battle fields and historic homes. Less mountainous than the other counties, the terrain was better suited to large farms when Tidewater settlers moved north. The Town of Culpeper is rejuvenated with fine dining and shops and years ago was voted a Top 10 town in America. The Library of Congress maintains the National Film Repository near the town and shows classic films for free Thursday - Saturday. Kaye and I often join friends for dinner and a silent film accompanied by an organist on a magnificent Wurlitzer. See more at Library of Congress Mt Pony Theatre.