Kaye first drove through Rappahannock County to hike in the Shenandoah National Park while at Catholic U. She was smitten, made the move, and has called this beautiful place her home ever since. Kaye saved her money and built much of her first house herself… with a saw and hammer! (That's NOT it below, but we like the photo). After marrying, we added on and live there today.
A NICE TALE... many years ago, when Kaye first moved to Rappahannock, her dog caught a chicken while they walked a country road. When she told Katherine and Sam Riley about it, a kind couple who took her under their wings, Sam said "What did you do with it?"... "I buried it!"... Sam slowly shook his head... "Why didn't you eat it?" Those were the days my friends.
Rick has been a broker for over 40 years, becoming an agent after graduation from U of Richmond. He served three years as Chairman of the Professional Standards Committee for the Loudoun County Board of Realtors, and is current president of RLEP, the Rappahannock League for Environmental Protection. He is proficient in IRS Code 1031 Exchanges, contract law and negotiations. However, marrying Kaye, raising their son Andrew (who became an MD in 2017!!) moving to Rappahannock and becoming president of RLEP are four of his greatest accomplishments.
We would be honored to assist you in finding or selling your home in these wonderful communities and beautiful countryside only an hour west of Washington, DC. Where you can still see the stars, the air is clean, the water is pure and the mountains are magnificent.
See some of Kaye's photos of Rappahannock.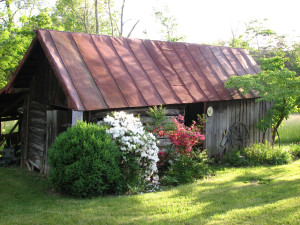 (This is not the house Kaye built. We just like the photo!)
Kohler Realtors LLC, affiliated with Real Estate III. The Theatre Building, 291 Gay St., P.O. Box 298, Washington, Virginia 22747
Call us: 540-675-1373